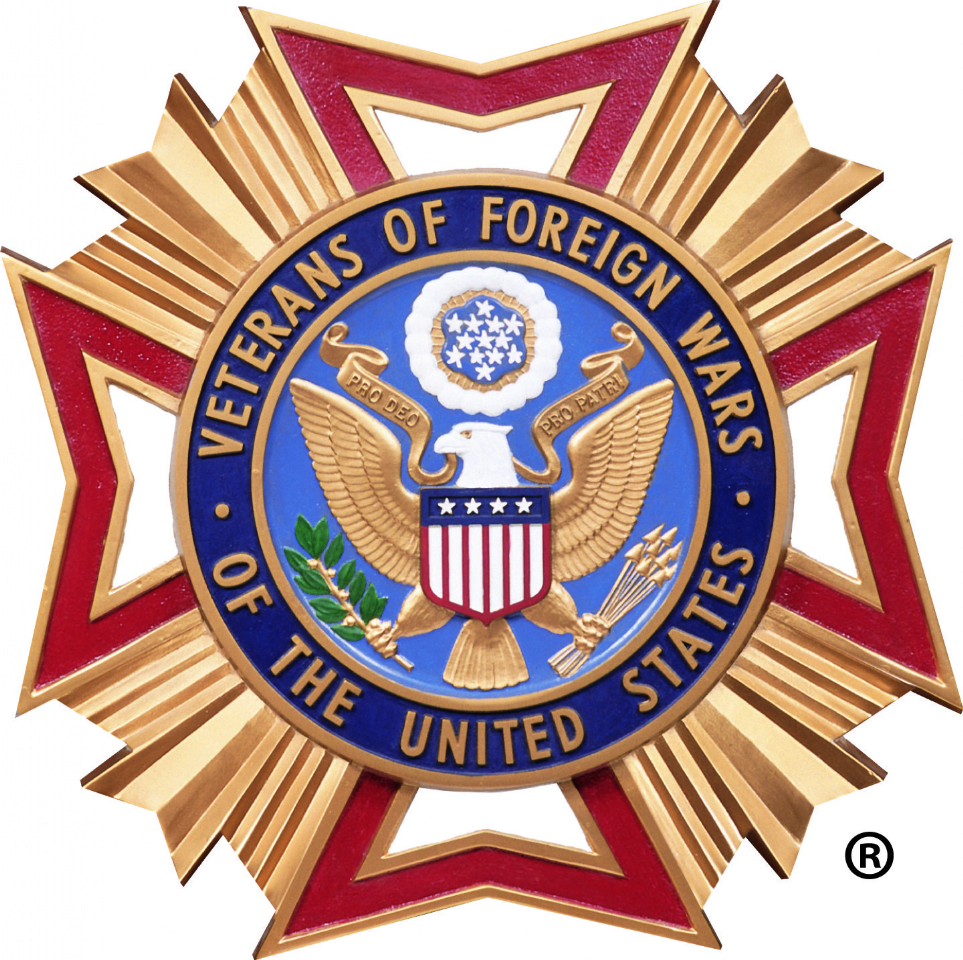 VFW Legislative report
5 February 2023
Here are our recommendations for the top priority bills, please go to ILGA.GOV for further information. Much thanks to Legislative Chairman Mike Peck for his hard work.
HB1154

-Rep Hammond - Amends the property tax code so that surviving spouse of a veteran with 100% and is deemed permanent and total need not reapply for the homestead exemtion for veterans with disability. If passed, effective immediately. Link to Bill
HB1350

- Rep Stuart - Amends the Illinois Income Tax Act. Creates and income tax credit for taxpayers who are caregivers of a veteran with with a disability. Provides that credit shall be in an amount equal to 5% of the costs incurred for in caring for the veteran, not to exceed $1,000 in credits in any taxable year. Link to Bill
SB0274

-Sen. Wilcox - Amends the Illinois Vehicle Code. Provides that the standard registration fee for passenger motor vehicle of the second division weighing not more than 8,000 pounds shall be waived for any veteran who holds proof from the United States Department of Veterans Affairs of a service connected disability. Link to Bill
SB0213

-Sen Adriane Johnson - Amends the Burial Rights Act. Provides that contracts between cemetery authroities and cemetery workers associaion prohibity in any manner dedications of monuments or headstones, family visitations or visitation to veterans memorials on Sundays or legal holidays shall be deemed to be void as against public policy and wholly unenforceable. Makes conforming changes. Link to Bill
SB0220

-Sen Koehler - Amends the property tax Code. Prvoides that the portion of the property that is used by a business that iscertified by the United States Small Business Administration as a Service-Disabled Veteran-Owned Small Business (SDVOSB) is not considered to be used for ommercial purposes of the homestead exempetion for veterans with disabiities. Effective immediately. Link to Bill
HB1217

-Rep Schmidt - Creates the Veterans Licensure and Workforce Task Force Act. To advise the Governor and General Assembly and work directly with State Agencies and institutes of higher learning to provide to improve and expand policies, service programs and opportunities for service members, veterans, and their families. Provide specific subjects for the task force to review and make recommendations on. Requires the task force to prepare and submit a report of his findings and recommendations to the general, Sam Lee, and the governor on or before December 1, 2023. and to the other specified agencies in electronic form, provides at the axis repealed under December 1, 2024 effective immediately Link to Bill
We can support this bill, provided that the Illinois veterans advisor council is a member of the task force. We believe that should be a provision of the bill.
SB0091

-Senator, Jill Tracy- I meant is the University of Illinois act. Provides that a county is in that is entitled to a scholarship in the university, Illinois for the benefit of the children, a person who served in the Armed Forces of the United States until anytime on, or after August 2, 1990. And until Congress or the president orders the persons in service are no longer eligible for the Kosovo campaign medal are the armed forces expeditionary metal. Link to Bill
HB1048

-Rep Ford - amend the property tax code. In a section granting a homestead exemption with disabilities, provides that property that is used as a qualified residence by a veteran who was a member of the United States Armed Forces during World War II is exempt from taxation, regardless of the veterans level of disability. Provides that veteran qualified as a result of his or her service in World War II need not reapply for the exemption. Effective immediately. Link to Bill
HB1581

-Rep Pain- amends the Illinois vehicle code. Allows the Secretary of State to issue special registration plates designated as United States submarine veterans plates to each resident of the state who served in the United States Navy as a submariner. Link to Bill
SJR0010

-Senator Tom Bennett- designates the portion of Illinois Route 171 between Illinois Route 83 and US Route 45 as the atomic veterans highway Link to Bill
HB1239

-Rep Meier - Civil administrative code of Illinois. Requires eligible school district to report to the Dept Of Revenue. The total amount of veterans homestead exemptions granted for the 2022 Levi year for property located in the eligible school Districk and the total amount of veterans homestead exemption rented for the current living here for property located in the eligible school Districk. Provides that the department shall certify the difference, if any between the current living year, exemption amount, and the Lennie year 2022 exemption amount for each eligible school district. Provides that those amounts should be transferred from the general revenue fun to the support, our veterans and neighbors fun. Provides that in eligible school Districk is a school district that contains Reginald residential property that is located within 45 miles of United States military base. Creates the sport, our veterans and neighbors fun. Provides that monies in support of our veterans neighbors fun she'll be used to make grants to Audible school district. Link to Bill
This is my report on supporting legislation iand opposition to this date. We have over 300 bills in the Senate and over 1600 bills in the house. I'll do my best to keep an eye on them as legislation progresses. I'm certain his list will change. But you can please report now to our legislators that, this is pur priority Legislation to date. Note that none of these bills are are currently going before the house veterans affairs committee.
Thank you, for allowing me to serve,
Michael Peck VFW Department Legislative Chairman
•

The transfer of the 4.7 acres from Lake County Forest Preserve District to the Fort Sheridan National Cemetery, we are hoping that Representative Joyce Mason will introduce that legislation.


• The Sangamon county VAC is working on a resolution requesting a super CBOC for the county similar to what is in Peoria.



VFW


The legislative committee vice chair Dutch DeGroot is working on training for District and post legislative officers to do witness slips to support bills when a hearing is called and in talking with District Staff for State senators and representatives to cosponsor bills. The committee will be reminding our comrades that few elected officials are veterans and fewer staff members are veterans and that we are the subject matter experts for them when it comes to veterans legislation.