You'll find links here to direct you where to fill out a witness slip or other action and see the example below to show you how to fill it out. There shall be a brief description of how it helps veterans. Your voice matters!
What you can do to prepare as these items need immediate action to be effective
• You'll be given an email or see a message on social media it calls for immediate action.
• Prepare an email list ahead of time of all your contacts in Illinois
• Forward the email with the link that takes you here
• post/share the message on all social pages you interact with
• Make sure all your family and friends do the same.
Link to Contact State Senators
Link to Contact State Representatives
Witness slip instructions:
Name:
Full name or an abbreviation that you prefer
Address:
Add either your home or work address
Firm/Business or Agency:
Post & Location

if none Self.
Title:
Mr. Mrs. Miss. Ms.
Persons, groups firms represented in this appearance:
Self
, please do not put down an organization unless you are authorized by department.
HFA2 Testimony:
Record of Appearance Only
Please agree to the Terms of Agreement:
Check this box
Create(Slip):
Click this tab to submit completed Witness Slip
** If submitted properly you should receive a confirmation email within a few minutes
ClickImage Sample of Witness slip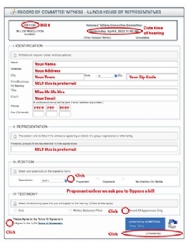 Click image Legislation made easy