Your Immediate Action needed We Support 5 different Bills
The Department of Illinois VFW would like all Illinois supporters of Veterans to complete Witness slips before Thursday 27 April for 5 items. A witness slip takes 30 seconds to complete and lets Illinois state Senators and Representatives know what we support and what we oppose. Links to all bills downward here The 5 items are:
SR0066 Atomic Veterans Day" to honor veterans exposed to atomic bomb testing; (we support this)
HB0925 Military Service-Tech" outlines how a Veteran Service Organization can become State Chartered and the benefit that comes from that; (we support this).
HB2500 HB2500 "Animal Adoption – Fee Waiver" specifies how and from where the adoption fee for a dog or cat can be waived for a veteran; (we support this)
HB2856 "Vital Records—Veteran Death" proposes that a veteran's death certificate may include branch, period of service and whether a service-related injury contributed to cause of death; (we support this
HB3295 "DFPR – Military Fee Waiver" proposal to amend Professional Regulation Law provisions on expedited licensure to waive certain fees for service members or spouses; (we support this)
Witness Slip Tips:
•Section II. Representation – enter "Self"
•Section III. Position – click "Proponent"
•Section IV. Testimony – click "Record of Appearance Only"
•When finished, click-on "Create(Slip)" on the bottom right
You will then receive an email confirmation that you submitted a witness slip
Please share this call to action; the more supporters completing witness slips the better.
Click Image Sample of Witness slip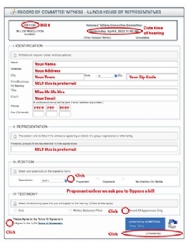 Click image Legislation made easy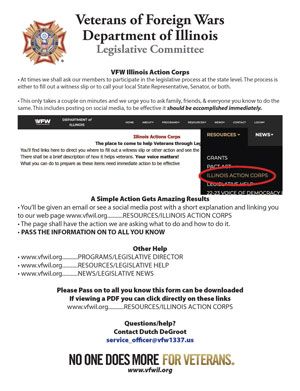 Link to Contact State Senators