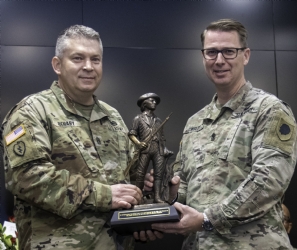 Sgt. Maj. David Owsley of Forsyth, Illinois, a member of Elk Grove Village Post 9284, retired from the Illinois Army National Guard after nearly 33 years of military service during a ceremony, April 1, at the Illinois Military Academy on Camp Lincoln in Springfield.
Owsley, the Plans, Operations and Training sergeant major, Joint Force Headquarters, Springfield, enlisted in the Illinois Army National Guard in December 1989, serving as a traditional National Guardsman for 10 years and as an EMT-Paramedic in the Chicagoland area before entering the Active Guard and Reserve program in 2000.
"I have enjoyed being in a company level unit, teaching young Soldiers to be tactically and technically proficient, doing things young noncommissioned officers are supposed to do," Owsley told family and friends. "I have enjoyed every minute of being an Infantryman."
Owsley has served in a variety of AGR positions in the past two decades of military service, including serving as the Operations sergeant major for the 33rd Infantry Brigade Combat Team prior to his current assignment.
Throughout his career, Owsley has participated in rotational training at the National Training Center, Fort Irwin, California, the Joint Multinational Readiness Center at Hohenfels, Germany and the Joint Readiness Training Center at Fort Polk, Louisiana.
He has conducted interoperability training with the Turkish Land Forces at Vincenza, Italy and the Polish Land Forces in Poznan, Poland and traveled to Honduras, Singapore and Ukraine in support of theater security cooperation exercises.
In addition, Owsley participated in division level warfighter exercises at Fort Leavenworth, Kansas and Fort Indiantown Gap, Pennsylvania, plus brigade level warfighter exercises and combat training capability exercises.
Owsley deployed to both Germany and Afghanistan in support of Operation Enduring Freedom.
"I was humbled to be asked by Sergeant Major Owsley to be the officiant at his retirement ceremony," said Brig. Gen. Rodney Boyd, of Naperville, Assistant Adjutant General – Army, Illinois National Guard and Commander of the Illinois Army National Guard. "To give 32 plus years of your life to an organization speaks volumes of the individual and the family."
Boyd thanked Owsley's family for the sacrifices made in support of his career.
"Thank you to the family," Boyd said. "Without your support, we couldn't get 33 years of service out of our Soldiers."
Boyd commended Owsley on his 32 years in the Illinois National Guard.
"Part of that 32 years is shaping the next generation. The true testament of a leader, whether you're an officer or a noncommissioned officer, is how well you leave that position, how well prepared you have left that position, how well you teach and mentor your replacement because at the end of the day we will all hang up this uniform," he said. "Thank you for 32 years of service and pride and for building a foundation in this organization that will take us into the years to come."
Col. Eric Davis, Director of Operations, Plans and Training, Illinois Army National Guard, lauded Owsley's technical and tactical proficiencies, and his ability to mentor and lead Soldiers.
"I've had the opportunity to serve with you throughout the years," Davis said. "It is phenomenal to watch as you build and develop young Soldiers."
Davis said leaders mold the technical and tactical proficiencies and mentorship together and provide a vision to subordinates and Soldiers around them and help Soldiers get to success.
"Leaders get them to success and it makes you successful, and in turn, makes the organization successful," he said.
Davis also thanked Owsley's family.
"I know I took him away from you to go to a lot of different places," Davis said. "I appreciate you allowing him to be a Soldier. But now, the Army is no longer a competitor. It's your time, don't let him off the hook."
Owsley also thanked his family for the sacrifices they have made throughout his career.
"Christy, you came along late in my career. You agreed to the Army when we married," he said to his wife. "You have spent plenty of nights alone at home while I was off being a Soldier. You helped me through when I needed it most."
Owsley shared a message with his three children, Aiden, Vivian and Elliott.
"Life has been hardest on you guys, but I'm looking forward to having lots more time together," he said. "I look forward to seeing what amazing young adults become. If you are fortunate enough to find a career you are passionate about, I say pursue it with your time and talent and if it doesn't love you back, give it 32 years."
Owsley offered advice to the Soldiers and noncommissioned officers of the Illinois National Guard.
"Be a barrel-chested, red-blooded American freedom fighter," he said. "Be competitive with each other. Know your warrior tasks and drills. They're important. They are the cornerstone of our success in anything we do and it is why the NCO Corps is the backbone of the Army. Teaching those tasks to Soldiers will make them competent and able to survive fighting on the battlefield today."